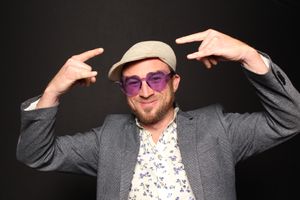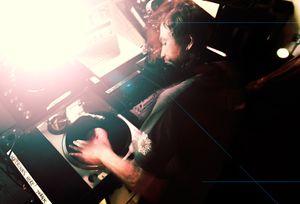 If I could give him 1,000 stars I would! Robin took care of EVERYTHING for our entire wedding weekend! Sound on Friday for rehearsal party and band, music and mic for ceremony, cocktail hour setup, playing music with other musicians, AND DJ and MC for the entire night! He also said provided all the equipment needed for all those events, which can run thousands to rent alone! Not only that, he was able to set up audio and video recordings of everything for us. The dance floor did not stop moving the entire evening! Everyone was having the best time ever. Not only that, his positive energy and amazing good vibes added the extra personal touch. He is above and beyond the cookie-cutter event planning agency DJ's who charge thousands for a couple hours and don't do a shred of what Robin does. If we hired anyone else, or even ten people in his place, our wedding would not have been the most awesome PERFECT party/event that it was. Talk to him- tell him what you want, and hire him. You won't regret it!
Every Robin Applewood event I've ever been a part of, as a musician or as a fan, has been nothing but a positive experience. His stoke for music is clear and contagious and he understands the experience from all angles. A true steward of the Bay Area music scene.
I've seen Robin's work as a band leader, sideman, producer, promoter, DJ and engineer. Every time it has been an amazing experience. Robin has endless amounts of creativity, and enthusiasm for the projects that he's involved in. As a producer, he exudes a positive vibe, always has great arrangement ideas, and brings out the best in musicians. I'm proud to have worked with Robin many times, and look forward to whatever musical adventures come our way in the future.
Robin Schuyler Applewood is all heart and pure soul! He is a talented musician, singer/songwriter, and charismatic persona beyond measure. His positive attitude and loving presence is a natural gift that uplifts everyone he comes into contact with as his remarkable soul embraces all things positive, supportive, and nurturing. His engaging personality and gifted talents are but facets to the enormous amount of positive vibes and grace in which he offers to all those he meets, both personally and professionally. Robin's deep dedication to uplifting the human spirit within each of us is unyielding in it's generous offering, and his music gives us the wings to soar free and true towards our own deserving heights. Robin always says, "Love To The Love." He lives these words passionately and breathes this glorious truth through his loving presence and his inspiring music. I am very honored and infinitely blessed to have a true, shining spirit such as Robin Applewood in my life. He is my dear friend, my soul brutha, and I hope that the rest of the nation may be offered the opportunity to know him as I do... as a beautiful soul sharing an amazing human experience with us all!
For whatever you are searching for, you simply can't get any better than Robin Applewood. He just finished producing and mixing my new EP and I'm thrilled about it. I've worked with him on multiple projects and events and can speak to his incredible skill and experience in every aspect of music, engineering, production, AV, DJ, and event planning and management. Your expectations will be exceeded every time. But more than just skill and experience, Robin offers what others can't — his positive attitude and "Bay Vibes" that calm and create flow in any event he is a part of. I'm sure I don't need to tell you, but stress, drama, and unforeseen challenges exist at every wedding, party, function, etc., so you need someone who can not only think on their toes, but do so and act professionally with grace and a calm that allows everyone involved to do the same. Congratulations on finding Robin— you just won.